Modyo Is Our Digital Experience Platform Partner
WEB DEVELOPMENT.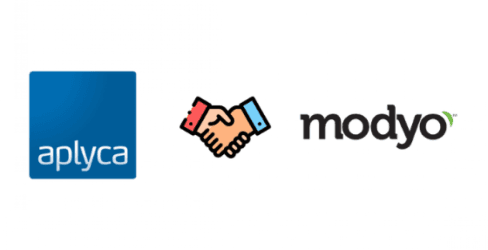 Modyo Is Our Digital Experience Platform Partner
Aplyca, a company specialized in cloud technologies development and consulting, announces its new partnership with Modyo, Chilean manufacturer of ModyoDX™, a robust Digital Experience Platform system that accelerates large companies' digital transformation processes.
Modyo has over 10 years of experience, focusing on the development and improvement of digital experiences in large companies, especially in the financial sector. With ModyoDX™, it is helping to transform digital channels with a lightweight, fast and secure platform to build solutions that inspire customers and generate business growth.
Aplyca as Modyo partner in Colombia
Aplyca will perform complete (end-to-end) implementations within its customers and business partners' ecosystem, providing its experience in consulting, development, frontend, UX/UI and infrastructure services under the AWS cloud;
"ModyoDX™ is a mature and solid platform that fills a significant void in the Digital Experience Platform market. In fact, it competes with complex proprietary solutions that operate under outdated architectures and is a very attractive alternative for multipurpose platforms that require years of development in order to equal ModyoDX out-of-the-box offer."

Felipe Jaramillo, Aplyca CEO
Under this agreement, Aplyca expands its products and services' portfolio, focusing on  strengthening and optimizing its current resources to implement digital solutions in the market with greater differential for its customers.
Modyo DX™ strenghts
Great experience in 4 dimensions:
Digital experience: proven by improvement in customers when interacting with the platform, focused on usability, load times and workflows and services.

Software Engineering: as a software company they are constantly evolving; not only regarding their platform but on the solutions they provide.

Active development: in order to achieve maximum efficiency in each implemented process, they strongly put into operation these methodologies.

DevOps: the same as Aplyca, they are local AWS partners.
If you are interested in implementing projects or improving your digital experience with technologies such as Modyo, please contact us.