Ibexa DXP: An Option for Your Company?
USER EXPERIENCE, TECHNOLOGY OF EXPERIENCE.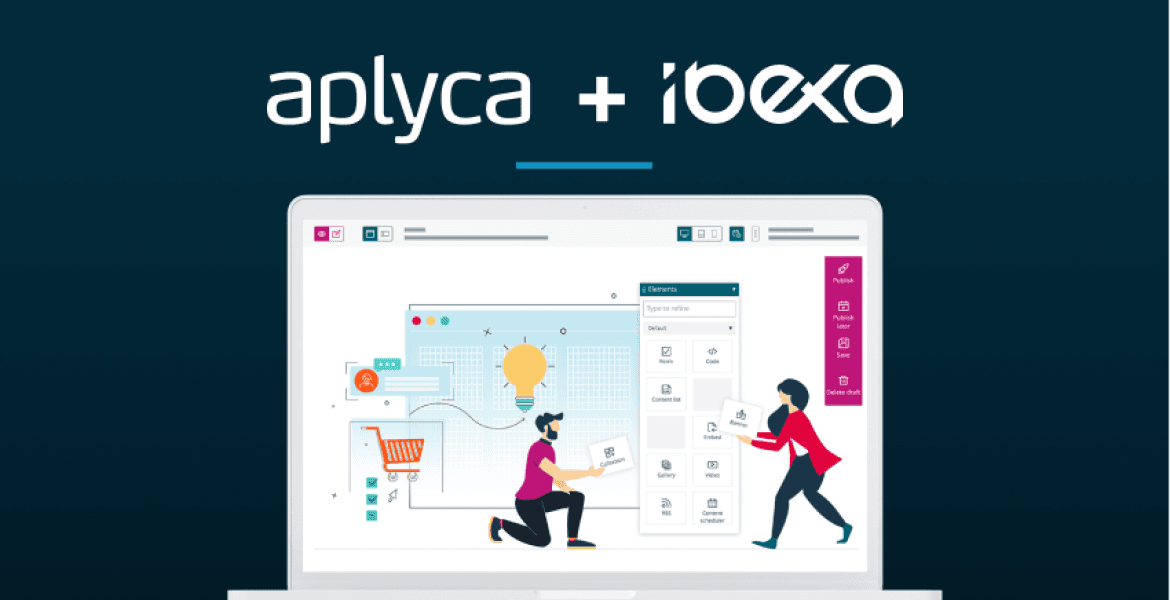 A digital experience platform (DXP) is the next frontier for enterprise-grade companies constrained by a traditional content management system (CMS).
A DXP is a selection of technologies that speak to one another, that integrate, on one united platform. E-commerce systems, identity systems, apps, portals — all of these (and more) connect and are then managed under one umbrella, the DxP.
If you're reading this, you likely have an understanding of DxPs. In fact, you're probably already considering a DxP or trying to convince your partners it's a good fit. However, evaluating potential DXPs is complicated — it's a perplexing technology, there are a lot of options on the market, and it's difficult to discern a legit DxP from a dressed-up CMS. 
Traditional CMS Limitations
Before we dive into the specifics of Ibexa's product suite, let's discuss the problems a CMS creates that push companies toward a DxP in the first place. 
A CMS is great if you're using it the way it was intended to be used — for content management. But the main challenge is, the moment you need more technical capabilities, you're limited by that CMS. 
Content management systems simply weren't built to support integrations and extensions for complex businesses. For example, if you tried to integrate an e-commerce system into a CMS, you're really shoving a square peg into a round hole. It might integrate in theory, but it won't be easy to do or efficient to manage long-term. 
A CMS is also limited by its:
Pre-production management and staging options

Underlying architecture, needed to buttress complex integrations

Upgrade mechanisms, which disrupt connected systems

Personalization or segmentation options, necessary for tailored customer experiences 

Highly-structured, inflexible content library (landing pages, etc. can't be customized easily) 
It's not that CMSs are bad. In reality, they remain powerful tools for many businesses. And a DxP isn't for everyone just yet. Companies with a single website and no complex integrations don't need DXPs until they're more mainstream and cost-effective. 
That said, if your clients are high-powered, multi-website, multi-asset tech conglomerates, they are likely ready to level up to a DXP because of these CMS shortcomings. 
The Top 3 Advantages of a DxP for E-commerce Websites
We'd like to put one legit DxP on your consideration list: Ibexa. 
Ibexa now offers a DxP but, unlike some providers, their platform inherits years of maturity and functionality from their time-tested CMS. 
Companies want DXPs for the exact reasons CMSs stop working for them. Namely:
Maximum customer personalization

More variability in content types
Most importantly, and we can't say this enough, DXPs lead to stronger integrations. Your ERP can speak to your CRM which can speak to your mobile app, and so on. This creates both a seamless user experience (no more clicking away from the "parent" site to the .store e-commerce hub) and an easier backend to manage. Everything's in one place. 
The Differentiating Factors of an Ibexa DxP 
DXPs might sound great to you. But why choose Ibexa's DxP over others? 
As mentioned, Ibexa's DXP was built atop an already successful CMS. They didn't jump on the DxP bandwagon just because it's trending, building a system from scratch. Rather, a DxP was a logical next step once they perfected their CMS. 
In addition, Ibexa's DxP features:
Stable security proven by a track record with few instances of vulnerability and a robust permissions system.

An integration model that, as a bonus, includes functionality for third-parties or multiple teams. For example, app developers (a third-party agency) can extract relevant website info and populate it into the app with ease — no need for hacks or repetition of efforts.

An API-first mentality. Every DXP has an API, an application programming interface, but Ibexa built their API before they built the rest of their system, not as an afterthought. As a result, content extracted by third parties is machine readable — it comes out clean.
Ibexa's Customizable Product Offering Fits Your DxP Needs
Ibexa is also preferable to other DXP providers because they have a tiered product offering. You don't have to pay for or implement every portion of their product at once. Instead, you can start with the basics and know the rest is there — and will add on seamlessly — when you need more functionality. 
There are three tiers available: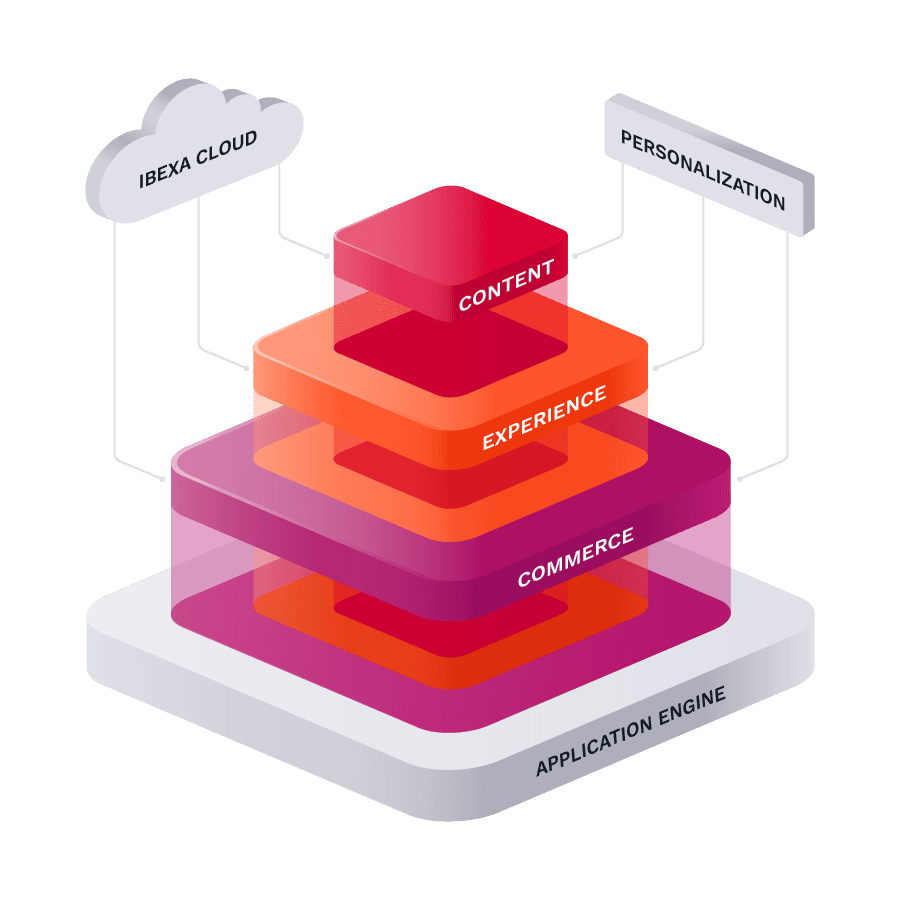 1. Ibexa Content
2. Ibexa Experience
3. Ibexa Commerce
1. Ibexa Content is their core offering and includes all of the expected basics of a DxP, complete with the Ibexa-specific advantages we've discussed. 
2. Ibexa Experience builds on Ibexa Content with two important proprietary additions: Website Factory and Page Builder. 
You can use Website Factory to create sites without technical intervention. So, you can replicate or build new websites from what already exists without outside help. Page Builder is an advanced drag and drop interface that makes it easy for you to build dynamic content pages across sites. 
3. Ibexa Commerce is the most robust DXP solution. It includes all of the features of the previous two tiers and adds a custom e-commerce solution designed to integrate with any ERP. Notably, Ibexa Commerce users won't have to manage their product inventory (PIM) separately from their sales (ERP). 
Aplyca's Unique Role Integrating Ibexa DXPs
Ibexa is a fantastic platform, but they don't offer implementation. They instead rely on outside partner agencies to institute a DXP for their customers. 
This is where Aplyca comes in. We have over 15 years of experience as an Ibexa Platinum partner. Better yet, our team has implemented approximately 100 Ibexa-based solutions. 
1. A Flexible Approach Leverages Your Team's Strengths 
Aplyca takes a flexible approach to Ibexa implementation projects. We can manage some or all of implementation for you, depending on your team's technical chops and bandwidth. 
For instance, we can provide 100% of the UX and backend work as well as operations and maintenance. Alternatively, we can simply complete backend tasks. Whatever fills in the gaps for your team. 
2. Scalability and Resiliency for Long-Term DxP Success
Not every company will center scalability and resiliency when building out their DxP, which could lead to dissatisfaction with your implementation partner. 
In practice, a scalable DxP means you won't need to update every integration when the system updates. Also, your system will be resilient because we'll build safety nets for you. You wouldn't board a plane with no backup engine, right? We won't build a DXP that will fail when one part misfires. 
3. A Content Migration Partner Means a Clean DxP
Content migration — moving your assets from your CMS to your DxP — is a top concern for all of our clients. That's because content migration can result in poorly-structured older content worming its way into your pristine new platform. 
Aplyca can carry out the content migration for you, ensuring all content on your new platform is clean. 
4. Aplyca's Custom Form System Tracks Leads with Ease
Last but not least, Aplyca developed its own powerful form system that we can implement alongside a DxP. 
While Ibexa doesn't offer a robust form solution, Aplyca recognizes how important they are. We've stepped in to fill this gap for our clients. After all, forms capture leads and other data, creating fruitful relationships with prospects.
Contact Us
Only Aplyca can implement an Ibexa DxP with all of these details (with a custom form system) in mind. Ready to pursue a DxP for your company? Let's talk.