Digital Experience Platform (DXP)
USER EXPERIENCE, TECHNOLOGY OF EXPERIENCE.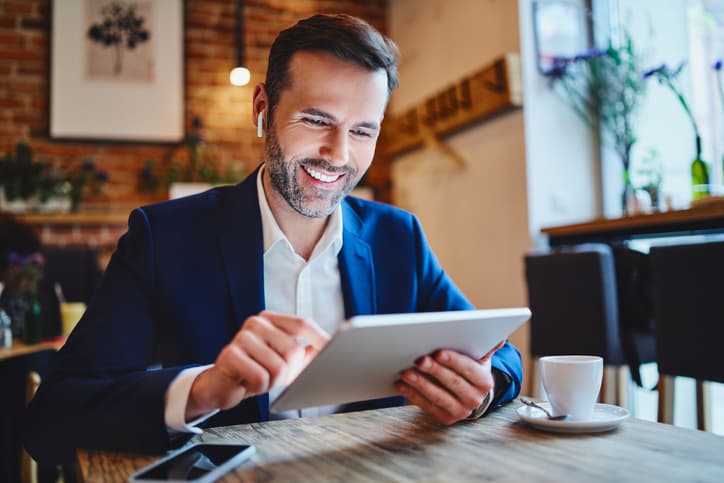 DXP: Manage your customers' interactions from a single platform
This is an introduction to the Digital Experience Platform (DXP) concept.
Modern digital businesses face the challenge of maintaining an active interaction with customers in different media, achieving close interaction with them (customer engagement).
This platform emerges to achieve this connectivity and simplicity.
Digital technologies such as websites, content management systems (CMS), analytics and search engines are converging to DXPs. They are set to play a differentiating role in the digital customer experience.
What is a Digital Experience Platform?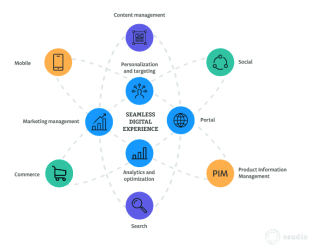 DXP is a software platform used to consistently manage customer experience across all contact digital points: websites, mobile devices, social media and business content management.
They offer a central reference point for each customer by increasing customization in different media without focusing on a single one, and provide an architecture so that companies can digitalize their business operations, delivering experiences of connected customers while collecting their practical information.
CMS or DXP, are they same?
Digital Experience Platforms have arisen from the limitations of CMS in regards to creating and managing in-depth customer experiences. Since DXP has come into being off the back of CMS, there is certain overlap between them in terms of content creation and asset management.
According to Mark Grannan, from Forrester, "Web CMS is critical for developing, managing and optimizing web, mobile, and other content-based experiences...Whereas some critics considered web CMS solutions 'bloated' a few years ago, we think times have changed. API-first architecture and cloud deployments are reshaping the packaging of digital capabilities into more granular tools that can be assembled on demand."
A DXP is equipped to handle content and asset management on a large scale; it allows syncing, managing, and pushing content across verticals likes web, kiosks, billboards, customer portals and IoT devices, among others. 
Additionally, it is effective in launching e-Commerce projects, establish intranets and manage multiple microsites with multitenancy. On the other hand, a traditional CMS would struggle doing that without significant investment and development time.
Main components of a DXP
The core components of a DX platform include: content management, personalization, and the ability to deliver this content on any channel, at scale.
In addition to the above, there is a wide range of technologies necessary to support a comprehensive digital experience, which enable the operation of a DXP. These technologies, along with the core components, make up a company's digital experience ecosystem.
Examples of some areas of this ecosystem include:
 Main components:
Additional components:
Management of digital assets

Data management platforms 
An interoperability layer keeps these components together and allows real-time interaction. The key success factors of a DXP, which allow this interoperability, include:
Comprehensive, stable and complete APIs: they provide the basis for working with other applications, whether as the best and more recent marketing software apps or legacy IT solutions.

Enablement at enterprise level: interoperability at the API level is not sufficient by itself; a DXP must allow users to interact and benefit from third-party tools through easy integration. For example, interoperability from the perspective of the business user with minimal or no IT participation.

Microservices architecture: this architecture should support scalability and extension when required, forming the building blocks of an agile ecosystem of digital marketing technology.
DxP as a toolbox
Understanding this platform requires an analysis of multiple separate tools. Tony Byrne, of the Real Story Group, states that the DXP don't exist: "They can be defined in different ways, but typically entails some sort of hybrid Portal/CMS/DAM/Ecommerce/Personalization platform or collection of tools. Not every self-styled DXP offers all those services, let alone within the same product."
In turn, Joshua Strebel, co-founder/CEO at Pagely, affirms that "Basically a DXP is a few other services cobbled together to achieve a specific goal. No one has a unified solution yet. It's just duct-taped-together services." Strebel adds he doesn't think there is really a market for whatever the "ideal" solution is. 
Significant validation of the DPX in the market
Migration to DXPs is a trend. Forrester and Gartner document and analyse this type of technology.  Some examples of DXPs include eZ Platform, Modyo, Acquia, Adobe, BloomReach, Episerver, Liferay and Sitecore.
Gartner defines DXPs as an "an integrated set of core technologies that support the composition, management, delivery and optimization of contextualized digital experiences. DXPs imply a high degree of emphasis on interoperability and continuity in cross channels throughout all customer processes." Likewise, in peer software reviews such as G2 Crowd, TrustRadius and Capterra, the existence of DXPs is recognized.
Advantages and benefits of a DXP
A compelling digital experience offers companies the opportunity to differentiate themselves from their competition and increase engagement and revenue.
Benefits of a DXP
1. Retain and increase customers:
Identify behaviour that generate opportunities to:

 Increase number of customers

Reward high-value customers (reward programs, special offers, etc.)

Involve customers through useful content that relates to their own products (content marketing)
2. Help the customers to "purchase"
Educate buyers

Provide "do-it-yourself" or self-help videos to educate buyers

Insert content along with online product catalogs

Provide content from channels and partners to attract their audience (or provide this content directly to customers)

Provide opportunities for community engagement:
o   Product reviews 
o   Online communities
3. Persuade customers to make their first purchase or increase the average order value (AOV)
Deliver personalized content that is more attractive to buyers at that time.
4. Increase brand value
Offer attractive and personalized digital experiences that will increase your audiences' potential to become brand advocates, both online and offline.
5. Improve internal productivity and reduce time-to-market to meet/exceed customer expectations
Efficient management of multilingual sites

Creation and delivery of a faster digital experience for marketing specialists

Specific brand and country experiences can be centralized while, specific market experiences are managed at local site
6. Reduce technology expenses
DXP ecosystem applications will interact more effectively and reduce integration cost

It will be easier and faster to add new applications to an existing DXP ecosystem

The implementation of a DXP based on a Software-As-A-Service (SaaS) reduces fixed and variable technology costs and increases the innovation available to commercial users (for example, marketers).
Aplyca – Our DxP Services and Solutions
At Aplyca we provide the transition to DXPs. Technologies such as Modyo and eZ Platform offer modern DXP solutions for different types of customers.
If your organization is interested in knowing and working with DXPs, please contact us.