Cloud Migration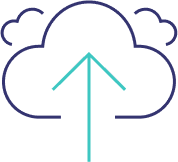 We reinvent how your infrastructure operates on the Amazon Web Services cloud. Hybrid or total migration, according to your needs.
Aplyca offers professional services to perform expert cloud migration initiatives. Our cloud-certified architects work with your teams to achieve a transparent, secure migration, with minimal service interruption.
We guarantee the success of migrations and take full advantage of cloud tools and services in the process.
Hybrid Migration
We integrate your data center with the cloud's high-availability, power and convenience. Increase your on-premise capacity with the functionalities and resources using a traditional Virtual Machine approach or a containerized strategy leveraging Kubernetes.
We achieve an agile implementation of new services and applications, while maintaining compatibility with legacy systems.
Total Migration
We design a migration strategy to transition from on-premise to the cloud. Our architects assess your current infrastructure, to assure cloud functionality, performance, optimization and stabilization. You get a transparent and agile transition free of interruptions and data loss.
Cloud Architecture
Our certified architects design scalable and high-availability, failure-tolerant systems, which enhances cloud performance. Using best practices, our teams build, deploy and manage the AWS solution that maximizes value for you.
Container Solutions
Our DevOps teams are experts in container-based solutions, leveraging the power of Container Orchestration, Schedulers and Container Runtimes, such as Docker. Our orchestration platforms include Kubernetes and its managed services via Amazon, Microsoft Azure and Google.
Benefits of Migrating to the Cloud
Maintainable solutions using infrastructure as code:

Business continuity schemes, disaster and contingency recovery plans.

Permanent workload, services and solutions automation.

Business Continuity:

High availability and increased implementation speed. Scalable capacity during demand spikes.

Cost reduction in hardware acquisition.

Better use of tools and services offered by the cloud with open source tools that can be used in multiple cloud platforms.

Personalizated Consulting:

Assessment of the current state of the infrastructure by AWS-certified architects.

More than 10 years of experience in cloud technology.

Experts in IT infrastructure migration (partial or complete) to the cloud.